Spring Is Here!
Alright, first off I am really trying to learn how to participate in these Link Parties. From what I understand a Link party is where a bunch of other bloggers link up their projects. It makes finding cool DIY projects and other blogs a lot easier. So with this post on my garage sale Easter decor I will be listing all of the other blogs I have linked up to to hopefully help you guys find some other really awesome websites too!
GARAGE SALE EASTER DECOR
Everything except for the tissue paper pom poms, rosette balls, frame and one item of decor is from garage sales and D.I!
Here is the breakdown of my Easter decor:
The tall vase was $5 at D.I. and eggs inside were .50 cents a piece except for the two little pink ones. I bought those along with a bunch of other Easter eggs for .25 cents. The frame at the base of the vase I made for about $5. The little bird to the left of the frame was .50 cents at D.I. and the flowers in the little teal pot were also found at D.I. for .50 cents
I found the decorative garden ball at D.I. also. It came with two other balls just like it and in a really cool iron try. They were $3 dollars each. The little bunny I found at a garage sale for >50 cents and the crystal candle holder and candle were found at D.I. for a total of $2.
The green relish tray I found at D.I. for 1.50. I repainted it and put the vinyl silhouettes on it. The easel it is sitting on was found at a garage sale for $1
Take a look at some of the before and afters of the items I found at D.I. and garage sales!
GLITTERED EGGS
Before
When you are glittering something you always want it to be white so that patterns don't show through. So I painted my eggs white.
Sprayed it with a spray adhesive, through it in a bag with some glitter and shook it up!
After
EASTER RELISH TRAY
Before
This was a Christmas dish before! I took a piece of sand paper to it to rough it up and then spray painted it green.
Then I found some Easter silhouettes online and had a friend cut them out for me with vinyl cutter
FLOWER POTS
Before:
I just used paint and a simple foam roller and gave them a new look!
After:
WATERING CANS
Before:
Just use spray paint! I also sanded down the smaller one so that the silver patterning would should through!
After
Tutorial on this frame coming soon!
Here are all the other blogs I linked up to with this post!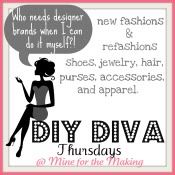 src="http://whipperberry.com/wp-content/uploads/2012/01/whipperberry-button.jpg"/>
http://www.blissfulanddomestic.com/