I haven't had a whole lot of time to blog this week! I am still working on my week to week post! For Show & Tell Saturday here is a dresser that my incredible crafty neighbor and friend did.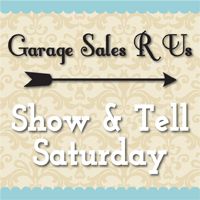 She totally spaced the before picture! (sound familiar?) She bought this dresser for $25 off craigslist. It was your typical brown dresser. She painted it what and added colored chevron strips. I LOVE it!
The white paint she used was paint we got at the free court of paint day from Ace hardware and all her beautiful colored chevron strips were painted with paint she already had so she didn't spend a dime on paint!!! I seriously gasped when I say this dresser! I love it and it looks so cute in her girls bedroom! Thanks Iva!