Here is another guest from for our Show & Tell Saturday!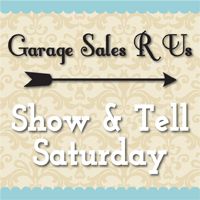 Meet Theresa! She blogs over at Quar Decor. She is going to tell us about her filing cabinet makeover!
******************
I picked up two free file cabinets through Craigslist last week. I find a lot of free stuff, but I usually have to work for it. Often times I have to carry heavy pieces up or down several flights of stairs on my own. That's the price I pay to get it for free! These people just want their "junk" taken away, and they don't usually want to do it themselves.
So Mike and I carried these file cabinets down two long flights of stairs and brought them back to the house for some fixing up. I literally had to take a hammer to these guys to bang the drawers back into shape so they could open and shut properly.
Then my well-rehearsed file cabinet revamp got underway: I removed the drawers and popped the hardware off to give it a good shine. Then I cleaned the cabinets with a rag and spray painted them a deep red to cover up the scratches and minimal rust spots.
I cut up the fabric only to find that I only had enough fabric to cover one set of drawers... the other cabinet is still sitting in the living room waiting patiently for its spruced up drawers. (Stay tuned to find out what I end up doing to it!)
I spread Mod Podge on the front surface of the drawers with a cheap brush and smoothed the fabric down and around the front. I cut out a circle so the key hole could pop through.
I let the drawers dry overnight. In the morning I took an exacto knife and cut the fabric through from the back to make holes for the hardware.
The fabric and the color is so bold and bright!
What do you think about this fix up? I really enjoy sprucing up file cabinets... soon I want to create my own patterns and designs for the front of the drawers! Then I can launch my own "Fancy File Cabinet" business :) Thanks for stopping by! Feel free to check out some of my other fun fix ups I've done:
Feel free to drop my "Popular Posts" table. I add that to the end of most of the posts I link up to help keep the traffic flowing on my site! Thanks so much for hosting me :) Have a great day!
Theresa! These are so cool! I Love ALL of them! I am sure you will have some great business with the Fancy File Cabinet!