It's time for another Show & Tell Saturday! This week we have Sue from House Pretty who is going to show us what she found on a Saturday out garage saleing!
If there is anyone who would like to participate in the show & Tell Saturday please email me at garagesalesrusblog@gmail.com! I would be happy to feature you!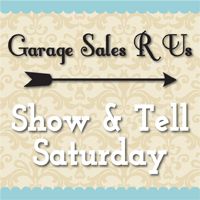 Hi everyone, my name is
Sue

and I blog over at

House Pretty

, or better known among many as Sue@housepretty. I found Robin at Garage Sales R Us several months back and was instantly hooked, because we share a common passion – garage sales!
So, when Robin contacted me with an invite to come do a guest post over here on her blog, I was thrilled, because, have I mentioned somewhere before that I love garage sales! Also, because I love her blog, and to be a guest on it is rather awesome! And, on top of that, this is the first guest post I've done. So, if you see any bloopers, show some leeway, ok?
Now, for the problem of deciding which garage sale to post about…my solution, slip two past her (shhh…this will be our little secret!)
The first one I picked, mainly because there was a picture of me in it. No, I'm not that vain, lol! I just thought you may wonder who you were "listening" to.
One of the yard sales I went to was clear across town, at a church. They were raising money for a short term missions trip. And, this is what I wore. I have wondered if I should dress down more, perhaps get even better deals, because people might feel sorry for me, lol?!
I will prewarn you, I didn't take closeups of the individual purchases, rats!
I tried to arrange the placement so that each yard sale has it's own step, however, a couple of yard sales had to overflow to two steps.
The top step, a picture frame, cost $1.50, and I think, 4 of the books, cost $ .10 each., as well as a scale, which I have been looking for, cost $5.
The second and third steps, a white/black polka dot blouse, $1, heck, cheaper than Frenchy's, I'm lovin' it! A Tanita, digital scale, like new condition, including all manuals, $3. Remember the first scale I bought? Wish I had have found this one first,grrr...! A pack of 3 pictures frames, $.50.
The third and fourth steps. Now here is where it gets interesting.
First, I will show you what the scene looked like where I got all the items on the third and fourth steps.
Yes, you see that right, and no, you haven't had too much to drink, it is in fact, two tractor trailer loads, full of goodies! There were a total of three long rows, made up of several tables joined together. Plus, there were various pieces of furniture! It was HUGE!
I got to this one half way through the morning, unfortunately. Hey, you can't be at three yard sales at the same time, after all! So, by the time I got there, around 10 a.m., they just wanted to get rid of some stuff, so they had a sale. Anything you could fit in a grocery bag, whether it was hanging out the side, balancing over the bag, they didn't care. (Hee! hee! I'll tell you the price at the end. Oh, I'm just awful!) So, I got 3 CD's, two of classical music, brand new, still sealed, 5 Dr. Seuss books, a couple of other Christian non-fiction books for myself.
And, a small sample of what's inside this little treasure.
Check out the lamp, whose base is made out of an antique purse. Love That!
I also got a Max and Ruby DVD, a red and white checkered picnic table cover, AND two picture frames, which were 11 x 14, with mat, 8 x 10. So, can you guess what I paid for all these?!
A whole $5 bucks, people, $5 bucks! And, let me tell you, my grocery bag was jammed, with the picture frames half in, half out of the bag.
So, for all three yard sales, I paid a grand total of $16.40! That's how to start your Saturday off!
And, the (secret)second one.
I had, probably 20 yard sales on my list, but only got to three or four. But, where I got everything was in two of them.

And, here is a breakdown of the individual costs
No, I'm not talking about the plant, you silly people! I'm talking about the item in front of it, that goes over a window, covering the hardware. I love these! This one is going in my kitchen window. I'm going to spray that baby out in my Benjamin Moore - Dove White!
I paid $3.00
Please excuse Honey Babes platform rocker, and my wicker chair in the background
. The reindeer family, covered in Christmas lights (yes, they all work). I have wanted a set of these for several years. They are going to go in the middle of my front flower garden below our kitchen window. I paid $5.00 for the set.
I have a couple of ideas for this picture frame.
I paid $1.50. (I hope I didn't pay too much for it?!)
New figure skates, with skate guards included! I have needed a pair for the last two years. Too cheap thrifty to pay full price.
I paid $5.00.
So, there you have it, this is what gets me up early, even on Saturday morning! My motto, whenever possible, is "buy used and save the difference".
Again, I want to thank Robin so much for inviting me here today. It's been a blast! And, I hope you are all getting convinced by Robin's garage sale successes, that there are still treasures abounding, if you just keep on the lookout for them!
Sue
Great finds Sue! I love the window valance and the frame! There is something for everyone out there!
If there is anyone who would like to participate in the show & Tell Saturday please email me at garagesalesrusblog@gmail.com! I would be happy to feature you!