Welcome to another Show & Tell Saturday!!!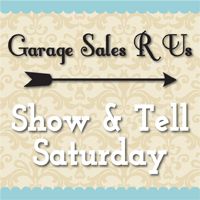 Here is Shelbie with her Cedar Chest Redo.
My mom gave me her old cedar chest while we were in St. George for Easter. I was so excited to bring it home! I have been looking for a bench to put at the end of my bed for so long and haven't found one that I love and that was a good price. When I got this chest I was ecstatic and totally knew what I was going to do with it and where it was going to go! I added some extra cushioning and recovered the fabric. Then I painted and distressed the wood and handles and it sits at the end of my bed!
Love what you did with it girl! Thanks for send this over to me! I would love to feature one of your thrifty projects! Email me at Garagesalesrusblog@gmail.com if you would like me to feature you!