It's time for another Show & Tell Saturday!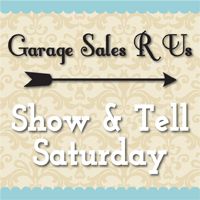 This week we have a good friend of mine from back in Texas, Darcy
Hello everyone! My name is Darcy. Robin's blog inspired me to get out one Saturday morning. I am going to share with you my experience and what I found.
I decided on Friday to go out to the garage sales on Saturday. I looked up sales on Craigslist and made myself a map to kind of follow and help me not get lost. Oh, and lucky me, all of the garage sales listed didn't start till 8am! I can remember having to go out before the sun was up, but for some reason around New Braunfels everyone likes to sleep in ;-)
That morning as I was getting ready to leave and my husband Ryan was asking me what I was going to look for. I told him I was just trying to get some school clothes for Rylan and maybe some small decor items. He said, "Well, go find me an espresso machine." I said OK and kinda laughed it off. I wasn't planning on spending my morning trying to find a espresso machine, lol.
So, I started on my little journey and went to the closest sale on my map (the one that was supposed to have the right sized little boy clothes), and they didn't have anything outside yet, so I just drove around the area for a while. I went up to the first sale I saw, and voila! There was an espresso machine with all the parts and pieces sitting in a box! The lady said it worked, but she hardly ever used it. $5 later my dear husband had an espresso machine! Major wife points ;-) I looked it up online and you can buy them on Amazon for $35-40. I'll take my $5 one.
After that I went to all the other sales on my little route, dug through A LOT of clothes and only found 3 shirts for Rylan out of all those sales! Apparently no one sells many clothes that are 5T/boys small.
There were tons of cute baby clothes that almost made me want another baby... almost.
So I was so frustrated after going around and not really finding what I was looking for and decided to detour through one last neighborhood before heading home. I nearly missed the last garage sale because he had no sign and there weren't any cars around, but I quickly pulled over. The guy was selling lighting fixtures and other smaller home appliances. I picked up a rubbed bronze, 3 bulb vanity light with the covers and lightbulbs all included. He said he was trying to sell it for 35, but said to make him an offer as it was getting hot and he wanted to pack up. I offered him $20 and he took it! I Can't find the exact one online but similar ones with less design than this one are 60+ on Home Depot or Lowes.
I Also bought a pendant light that was part of a pair he wanted $40 for, but I only needed one. He wouldn't go any lower than $15 for one, but looking back I bet I could have bought the pair for $20. Oh well.
Over all, even though I didn't find the boy as many boy clothes as I had hoped I count it successful day. I can't wait to get my lights up, and Ryan has already used his espresso machine and loves it!
I will definitely be going out again!